Compression Sleeve for Knee Pain
Neo Sports Lab is leading the way in research, development and manufacturing compression knee sleeves for knee pain. We have created the perfect recipe in the fabric of Nylon and Spandex, and added moisture-wicking Polyester into the mix to make the knee sleeves super breathable. When sweat evaporates and produces a cooling effect, the knee sleeve keeps skin dry and comfortable while you're doing aerobic (sweat-producing) activities like hiking or running.
By studying human knee structure, the kinesiology of knee movement, and the root causes of knee pain, we have created several designs of knee sleeves for knee pain. Each knee sleeve design has applied the industry-leading 3D weaving technology, which creates knee sleeves that have even and consistent compression around knee, making our knee sleeves the best knee support for knee pain.
Why Compression Sleeve for Knee Pain?
According to the Center for Disease Control (CDC), it is estimated that 1 in 2 people will develop osteoarthritis or the wear-and-tear form of arthritis in their lifetime. If you're dealing with knee pain of arthritis, you understand the pain and frustration that comes with it. The simplest of tasks become difficult with the pain and discomfort that comes with arthritis. Fortunately, there are a number of ways to manage osteoarthritis and get knee pain relief without surgery. One of them is using assertive devices such as compression sleeves for knee pain.
To clarify, knee sleeves are not the same thing as knee brace. A knee sleeve provides some support, but does not function in the same way a knee brace would. Knee braces are normally used to protect an existing injury, whereas knee sleeves are used for compression, support, and mostly preventive measures for pain relief or knee support in daily activities like running, jumping, weightlifting. Here is more details on knee brace vs. knee sleeve.
Compression knee sleeves can play a role in decreasing knee osteoarthritis pain and improving function. Knee sleeves add a valuable compression element that increases blood flow and reduces pain. The reason this compression aspect is so important is that a compressed knee encourages blood flow through the blood vessels of the knee. Simply put, using a knee sleeve results in less pain and swelling during and after daily activities.
Compression also boosts your lymphatic system and reduces inflammation. Since your muscles benefit from this increase in circulation, you recover faster from exercise with less discomfort. Since sleeves compress, they also reduce any swelling caused by injury.
Types of Compression Sleeve for Knee Pain
By material – Neoprene, Nylon, Compression Fabrics are three types of material used for knee sleeves. Compression fabrics are generally composed of spandex, nylon, and latex, and sometimes polyester is added into the mix to increase breath-ability. In comparison, neoprene knee sleeves are thick, warm and less breathable, provide mild to moderate level compression, and are best used for knee support than compression. Nylon knee sleeves are very thin and mild compression, and normally used for underpayment for brace. While compression fabrics knee sleeves are mostly machine weaved that have higher compression to help increase blood flow and best used for recovery after exercise.
By thickness – As mentioned above, neoprene knee sleeves are normally thicker than machine weaved compression sleeves. There are 7 mm, 5 mm and 3 mm neoprene sleeves. Compression fabric sleeves are less than 3 mm thick, but they also varies in thickness. While nylon sleeves are the thinnest less than 1 mm thick.
By compression level – Generally speaking, the thicker the knee sleeve, the better compression it provides. Machine weaved knee sleeves have the higher compression. The compression level also depends on weaving technology and the tightness of the weaving technique. A tightly 3-D weaved knee sleeve gives the highest compression.
By design – There are some many different designs of knee sleeves on market. Some have hole on kneecap, or hole at back, some have extra straps, but most knee sleeves are one piece cylinder design around knee. There are two major concerns with knee sleeves – spot-on compression around and sliding down issue. Most knee sleeves have good compression at the two ends (thigh and calf), but not enough around knee joints. That is also one of the factors contribute to knee sliding down.  Very few designs of knee sleeves have resolved those two issues. Neo Sports Lab's NeoAlly compression sleeves for knee pain have the unique design for spot-on compression around knee and stay-put design without sliding down and rolling up.
How to Choose a Compression Sleeve for Knee Pain
There are lots of compression sleeves on the market, so where do you start?  When shopping for compression sleeves, there are certain features that you should look for the ideal pair. A few things you should look for in compression sleeves include:
Fit.  Choosing a good design knee sleeve for best fit is very important.  A good knee sleeve should provide even and consistent compression around knee. Make sure that you measure your calves for proper sizing as you need to ensure that the sleeves will fit you perfectly.  If the compression sleeves are too tight, they will be uncomfortable and impossible to put on. If they are too loose, they won't provide enough compression, and they would slide down your leg.
Material.  Look for compression sleeves that have been made of fabric that would get free of sweat by taking it away from your skin, shifting it to the outer part of the fabric and vaporizing it as this will allow you to feel cool and sweat-free. A breathable knee sleeve is always the top choice.
Construction.  Compression sleeves which have been made using a seamless construction are by far the best out there. This technique involves knitting 3-dimensional textures into the fabric without creating seams. This enables products to feature mesh panels for breathability and ribbing for targeted support. So look for the tightly weaved high compression knee sleeves.
Color:  Less of a factor than the others, but make sure the color is a fit with your intended use.  For example, don't buy white if your sleeves bound to get dirty.  If using for running, we sometimes like a bright color as it adds to low-light safety outside. Look for knee sleeves that come with more colors and more sizes.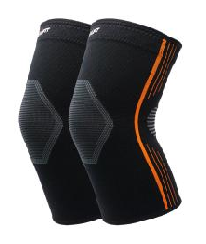 Breathable Compression Knee Sleeves
running, hiking, basketball, crossfit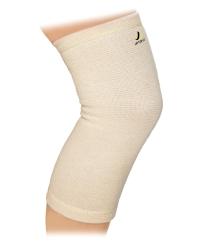 Copper Knee Compression Sleeve
daily wear, walking, running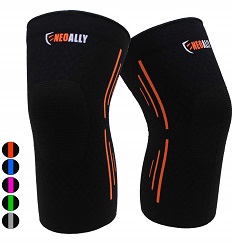 Sports Knee Compression Sleeve
sports wear, running, jumping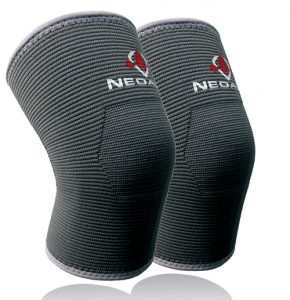 High Strength Compression Sleeve
Squats, crossfit, power lifting