Dog Ankle Hock Brace for Achilles
Neo Sports Lab is specialized in dog's leg support products, which include front leg, rear leg, knee, elbow, ankle, hip, and shoulder. By working with veterinarians, we have developed different types of leg braces to support dog's leg at each area with different levels of support. Our dog leg braces are designed with care to provide the best support while comfortable to wear.
Dog's ankles are most vulnerable for injuries. We have developed two types of dog ankle braces to protect dog's ankles or tarsus including the non-rigid ankle braces and ankle braces with metal spring support.
Braces for Dog Ankle Support
Dog's ankle, also known as a hock or tarsus, is the most injury-prone part of dog's body. If your dog has a swollen back leg or you notice pain and an abnormal movement of the joint, it's likely a hock, ankle or Achilles injury. Surgery is frequently required to correct the damaged cause and, whether your dog needs surgery or not, finding the best dog ankle brace for hock injuries is crucial to the long-term healing and mobility of dogs.
Dog ankle braces are made of high quality spacer mesh material and soft padding, and so can be used by pets including cats in any environment.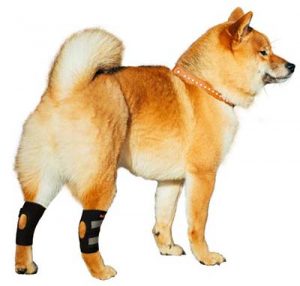 How Does A Dog Ankle Brace Work?
The most common symptoms that are corrected with ankle braces for dogs are knuckling and collapsing or hyperextension at the hock. Since most injuries occur in the hind legs, especially in active or aging animals, dog ankle braces are some of the most commonly provided orthotic braces for companion animals. They are successfully used for Achilles tendon injury or repair, arthrodesis, contracture management, tendonitis, and nerve injury.
Dog ankle braces can be designed with or without a joint or hinge at the hock depending on the needs of the particular patient. A joint or hinge is desirable if possible because it allows motion at the hock joint which can make it easier for the patient to go up stairs and maneuver on rough ground. However, if the hock joint is weak or severely damaged it may be necessary to eliminate motion at the hock and build the ankle brace without hinges. This will be determined by your veterinary professional and the My Pet's Brace practitioner.
Dog ankle braces are often provided for post-surgically for Achilles tendon damage. They can be designed to include range of motion control that can be adjusted to allow greater motion over time as the tendon heals. To control range of motion, at My Pet's Brace we prefer a simple, lightweight strap but various adjustable joints or hinges are also available. The amount of motion and the timing for the changes in motion will be determined by your veterinary professional and typically the brace can be adjusted by the pet family or veterinary professional.
These braces can be fabricated to include a front (anterior) and rear (posterior) shell (known as a "clamshell" design) for complete immobilization for a fracture or protection and support for an osteosarcoma, for example. This design allows for frequent cleaning and inspection of the affected area, a benefit not easily achievable with serial splinting and casting or bandaging.
Types of Dog Ankle Braces
Dog Ankle Braces Tarsus Braces Non-Rigid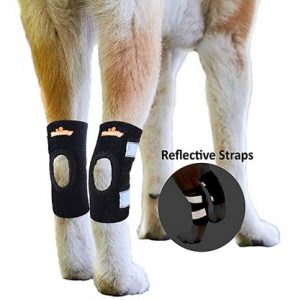 Dog Ankle Braces with Metal Spring Inserts