Dog Lift Harness Full Body Sling
Most dog lift harnesses sling support are just a piece of fabric with handles wraps around dog's belly, which is easy to use but has many drawbacks. One biggest issue with such dog lift harnesses is that it does not secure in place and slides back and forth when lifting, and thus causes more accident/damage to an already injured dog.
Neo Sports Lab has developed an innovative full body dog lift harness that holds securely to dog's entire body for easy lifting to help support any part of the dog – front,  back or full body.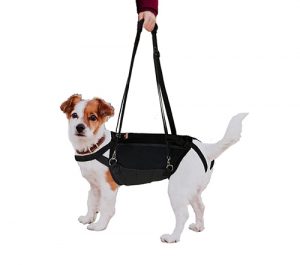 Why Use a Dog Lift Harness?
In most cases, you need to put on the dog lift harness and hold the strap or handle and pull up gently to take some of the weight off your dog's hips, shoulders, legs, and feet. The following five scenarios are certainly the most common to use a dog lift harness:
Helping your dog negotiate stairs. If your dog is able to get around fairly well, but needs help getting up and down the stairs, you'll use the dog lift harness to lift up her gently while walking beside her. Don't try to lift her off the ground, just take some of the weight off her hips and legs.
Helping your dog hop into the car. If your dog has ailing hips or joints, you do not want here to jump up into or out of a car. A well designed dog lift harness allows you to lift your pup by the hips and shoulders. If your dog is too heavy to lift confidently, you should invest in a good ramp to allow her to enter and exit the car.
Helping your dog go outside to poop or pee. Even dogs with severe limitations have to go outside to sniff around and relieve themselves, but they'll obviously need help doing so. In such cases, you'll have to walk a fine line between providing enough support to help your dog stand and move, yet without infringing on her ability to assume the position and answer nature's call. If your dog needs support while going to the bathroom, be sure to select a lift harness that doesn't cover her parts – otherwise, you'll just have to take the harness off, which defeats the entire purpose.
Helping your semi-mobile dog go for a walk. Dogs that have relatively minor limitations may still enjoy (and benefit from) going on short walks. Owners of such dogs will likely want to use a dog lift harness with a handle on the back. This way, you can provide a little bit of extra help to your pup, while still being able to walk comfortably yourself.
Carrying a completely immobile dog around. If your dog is completely dependent on you to get around, you'll need to use a harness that helps you lift her entire body off the ground in a safe fashion. Such harnesses must support the dog's hips and shoulders, rather than her abdominal region, and you'll want to select one that includes a shoulder strap, so that you can use the large muscles in your legs, butt and back to carry her, rather than just your arms.
While few dog lift harnesses can serve the needs for all above scenarios, however, the dog lift harness, designed by Neo Sports Lab with the innovative features (see below)  does give you the capability in helping your dog for all the needs.
NeoAlly Dog Lift Harness – Full Body Sling Support
NeoAlly full body sling support dog lift harness, the innovation patent pending design by Neo Sports Lab, has fully studied the dog's body and the supporting mechanism. The full body secure holds along with adjustable handles and lifting belts provides all your needs to support your dog no matter it is for front leg or shoulder to back knee or hip, or the full body support.
In comparison to other dog lift harnesses, NeoAlly full body lift harness has the following advantages:
Multiple Ways of Support. You can use it in different ways as your dog's condition worsens or improves, from full body support to partial support, front support or back support.
Secure, not Sliding Back or Forth. Unlike other dog lift harnesses that wrap around dog belly only, which slides back or forth when lifting dog and causes damage to your already injured dog, NeoAlly dog lift harness has three secure points – neck, chest, and hips. It is fully secured on dog body, does not slide in any situation.
Fleece Web Padding. NeoAlly dog lift harness has full layer fleece web padding inside, making it very comfortable to use on your dog. It will not rub, pinch, or scrub your puppy.
Flexible, Adjustable Straps. There are two adjustable straps connecting from neck to hip. You can adjust the strap to meet your preferred height for easy lifting. You can hold the straps at different position to give your dog support at front, back, or middle. The straps have reflective threads so you can safely use the lift harness at night.
Easy to Use. The innovation design makes this dog lift harness very easy to use. With your dog in standing position, put the harness on dog's back, fasten the chest straps first, then the neck straps, and finally the hip straps. Adjust and tighten the straps as needed, do not over tighten the straps.