Wrist Support Sleeve
Neo Sports Lab has developed three types of wrist support sleeves – breathable wrist compression sleeve, copper wrist sleeve, and adjustable support wrist sleeve. All three types wrist sleeves are widely used by men and women during sports, workouts, or daily activities.
Wrist Support Sleeve has been widely used for wrist support in various sports and video gaming because wrist sleeves relieve Wrist Pain, Carpal Tunnel, and Wrist Tendonitis.  Innovative compression technology in the wrist sleeves helps to stimulate joints, improve blood flow, and provide support.
How a Wrist Support Sleeve Helps in Sports and Gaming?
Wrist is the most used joint part of body and is also the most vulnerable part. Millions of Americans have chronic wrist pain. One study found that as many as five percent of the population may suffer from carpal tunnel syndrome. During most sports such as tennis, golf, baseball, softball, or lacrosse, wrist joints are constantly bent, stretched, and beaten. In video games or jobs that involve of a lot computer typing, your wrist is under extremely high pressure and stress. Wearing a wrist support sleeve will certainly help you.
A wrist sleeve can help because it keeps your wrist in a straight, neutral position. A 2012 study found that using a wrist sleeve at night did more to relieve carpal tunnel symptoms than using no treatment at all. You may also find it helpful to wear a sleeve during the day, especially during activities that trigger flare-ups. Repeated motions or extra strain on your wrist can make your symptoms worse. If your job allows for it, try wearing a sleeve at work.
Compression wrist sleeves will help to reduce swelling and give you better blood flow to your wrist and the oxygen it needs in order to heal.  They can also keep your hand in the proper position and preventing extra stress from impacting the median nerve. A carpal tunnel wrist sleeve or brace may help hold your wrist in a straight or neutral position to keep you from bending it and putting more pressure on the nerve. You can also wear a carpal tunnel wrist sleeve during the night to keep you from unknowingly bending your wrist as you sleep.
How to Choose a Wrist Support Sleeve?
Finding a right wrist support sleeve is very important. When choosing a wrist brace or sleeve, it depends on the sports you are participating in or the jobs you are performing. Some requires better support and less mobility, while others need some support but much higher mobility.
Support Level: Normally a wrist brace provides better support than a wrist sleeve. If your wrist requires firm or stabilizing support to keep it in proper position, a wrist brace with or without splint may be your better choice. If you want mild to moderate level support but some flexibility in moving or bending, a wrist sleeve is what you should get.
Compression Level: Depending on the fabric and the weaving technology, a wrist sleeve can have different levels of compression – mild, moderate, or firm. Mild compression provides energizing compression to help relieve mild symptoms in carpal tunnel, and can be worn in night during sleeping; Moderate compression provides restoring compression to help relieve mild-moderate symptoms in carpal tunnel, and normally wear during activities of frequent wrist bending like typing; Firm compression provides therapeutic compression to help relieve moderate-severe symptoms of chronic pain, and thus limit wrist movement for proper healing.
Adjustable or Not: Wrist support sleeve comes with or without the extra strap around wrist. The ones with such strap provide the capability of adjustable compression or support. This type of wrist sleeve gives you more flexibility in adjusting the support based on your need at the time of the day, or the activity you are performing. It also provide better support and compression than the one without. On the other hand, it adds another layer and thus may not fit for longer wear.
Comfort Level: No matter it is for sports or gaming or typing, a wrist support sleeve should be comfortable to wear. Normally, the fabric used in making the wrist sleeve determines the quality and comfort of the wrist sleeve. Most sleeves are made from Nylon and Spandex. In the wrist support sleeves made from Neo Sports Lab, we add Polyester, a moisture-wicking material, into the blend, and thus the wrist sleeves are breathable and comfortable to wear.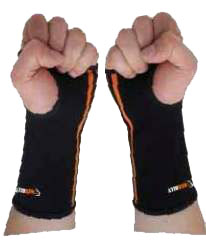 High Compression Wrist and Forearm Sleeve
Strong Compression
Breathable Fabric
Wrist and Forearm Support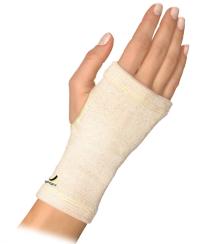 Copper Compression Wrist Support Sleeve
Mild-Moderate Compression
Copper Breathable Fabric
Lightweight for Day and Night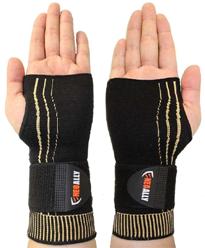 Adjustable Support Copper Wrist Sleeve
Moderate-Firm Compression
Adjustable Support
Copper Breathable Fabric