Elbow Compression Sleeve for Tendonitis
Neo Sports Lab has many years of experience in making elbow compression sleeves. We apply the most advanced weaving technology and select the highest quality materials. The two types of elbow compression sleeves we made –  the breathable NeoAlly Elbow Compression Sleeve and the copper Uptofit Elbow Compression Sleeve – are perfect protection sleeves for elbow tendonitis.
How Elbow Compression Sleeves Help in Tendinitis?
Tendonitis is an overuse injury that is also referred to as Tennis Elbow and Golfer's Elbow. In tendonitis, the elbow tendons get strained and then inflamed which is increased through movement. Compression sleeves have been widely used to treat elbow tendonitis because compression can increase blood flow and help alleviate the symptoms of tendinitis.
Compression increases blood flow, both during workouts/activities and during rest/recovery, increase oxygen and nutrient levels. This will increase recovery rates as it decreases muscle soreness. Compression can also help stabilize the muscles, including reducing muscle vibration, which can affect tendons.
While compression sleeve will not actually heal tendinitis, it can help with the symptoms. Also wearing compression sleeve can help prevent tendinitis by improving blood flow and stabilizing muscles to prevent stress and strain, as well as reducing swelling. This is especially important in sports that are prone to tendinitis such as weightlifting, tennis and others that require repetitive motion or stress on the muscles/tendons.
Also, the recovery benefits of compression can help prevent tendinitis and other similar conditions. Wearing compression sleeves after a workout can keep the blood flowing as well as eliminating substances such as lactic acid that cause soreness.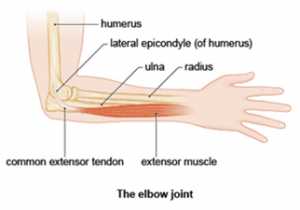 Elbow Compression Sleeves for Tendinitis By Neo Sports Lab
There are so many types of elbow sleeves on market. How to choose a right elbow compression sleeve to help in your tendonitis?  Here are some factors to consider before buying a elbow compression sleeve:
Compression level: After all, it is the compression that helps in tendonitis and its recovery. But is it true that: the higher compression, the better it is? The answer is not always the case. In some situation, you may need a high compression sleeve to increase blood flow, but it cannot be worn too long since high compression may cut blood circulation and cause more issues to your arm and hand.
Breathable material: The inter-weaved fabric elbow sleeves give better compression, and the moisture-wicking fabric improve the sleeves' breath-ability. Neo Sports Lab's elbow sleeves add Polyester into the Nylon-Spandex mix. The moisture-wicking Polyester makes ours elbow sleeves breathable and comfortable to wear.
Flexible design: Neo Sports Lab has applied the flexible pattern on elbow area that makes the elbow sleeves easy to bend and stay put during arm and elbow bend and movement.
Duration: The general suggestion for any compression sleeve is to remove after 6-8 hours of wear or whenever you feel discomfort. For the lightweight moderate compression elbow sleeves, you can wear longer or even overnight.
Size and colors: Elbow sleeves with multiple sizes and colors give you the option to choose the best fit for your needs.
Breathable Elbow Compression Sleeve
SUPERIOR SUPPORT: highest quality materials + tighter seamless 3D Weaving  = true and long lasting compression

BREATHABLE & COMFORTABLE: We add moisture-wicking Polyester into the blend of Nylon and Spandex to make the sleeves super breathable, keep your skin dry and comfortable

ENHANCED MOBILITY: We apply flexible weaving pattern at elbow joint for optimal compression while not hindering elbow movement

PROMOTES MUSCLE RECOVERY: The evenly distributed and long-lasting compression improves blood circulation, helps reduce inflammation, swelling, soreness and fatigue.

SPORTY DESIGN: Black with orange strips design gives this elbow sleeve sporty look.
Sizes: There are 3 sizes: S, M, L, and in single or pair packages.
Copper Elbow Compression Sleeve
TRULY COPPER RICH – most companies claim their copper sleeves contain highest copper infused content, as high as 88% copper nylon, but never provide the percentage of copper. Our elbow sleeve is truly Copper Rich: 25% copper fiber, 45% nylon, 25% spandex and 5% polyester. Copper anti-odor material absorbs and wicks away sweat and keeps the sleeve fresh and dry

COMFORTABLE BREATHABLE – we incorporate moisture wicking Polyester into the Nylon and Spandex blend to keep your skin dry and comfortable

TRUE COMPRESSION BETTER SUPPORT – high density tighter weaving creates true and long-lasting compression around elbow, improves blood circulation, reduces inflammation, swelling and soreness, promotes muscle recovery and helps in joint pain relief

WARM THIN LIGHTWEIGHT – our copper elbow brace is thin, warm, durable and lightweight, suitable for all day or night wear in sports activities such as tennis, golf, bowling, lacrosse, basketball, yoga and more, and during rest and relax.

SIMPLE STYLISH DESIGN – best copper elbow brace for women and men, fits both left and right arms, please consult the size chart to choose the best fit elbow sleeves for you and your loved ones

UNDER CLOTHES: Light color and thin enough suitable for under clothing wear.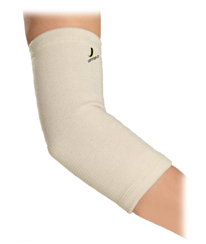 Sizes:   Small,  Medium,  Large