Hot and Cold Neck Wrap
Neo Sports Lab has developed several types of Hot and Cold Therapy Neck Wraps by the filling of gel bead, clay bead, and herbal seeds. Each of those neck wraps can be used as both hot and cold therapy – heat in microwave or freeze in freezer. The wraps are designed and made perfectly to wrap around neck and shoulder.
Sitting at a desk all day is hard on your neck and shoulders. In some cases, it can lead to discomfort such as neck and shoulder pain or stiffness. Hot and cold therapy can reduce the tightness and discomfort. The hot and cold neck wraps are designed to fit comfortably around your neck and deliver soothing heat or cooling to sore, achy or tired neck muscles. You can even wear one around your neck while you work.
Heat and cold therapy are often recommended to help relieve an aching pain that results from muscle or joint damage. Here are some key points about cold and heat treatment.
Cold treatment reduces inflammation by decreasing blood flow. Apply within 48 hours after an injury.
Heat treatment promotes blood flow and helps muscles relax. Use for chronic pain.
Alternating heat and cold may help reduce exercise-induced muscle pain.
Never use extreme heat, and never put ice directly on the skin.
In some cases, alternating heat and cold may help, as it will greatly increase blood flow to the injury site.
When cold is applied to the body, the blood vessels contract, vasoconstriction occurs. This means that circulation is reduced, and pain decreases. Removing the cold causes vasodilation, as the veins expand to overcompensate. As the blood vessels expand, circulation improves, and the incoming flow of blood brings nutrients to help the injured tissues heal.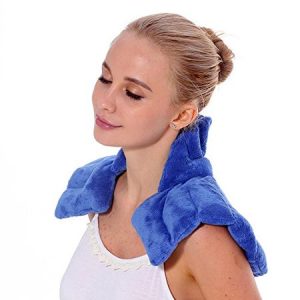 Types of Hot and Cold Neck Wraps
There are many types of hot or cold neck wraps including the instant hot or cold pads, which can be used directly without heat or freeze, but has to be disposed after use. The hot and cold neck wrap we are showing here is the same wrap that can be reused for heating therapy and cooling therapy. To make it hot, the wrap is heated in microwave for a few minutes, and put it into freezer to make it cold. There are several types of neck wraps based on the filling material being used for hot and cold effect.
Gel Bead – mixture of water and other non-toxic substances that help maintain the pack's consistency and temperature for a long time, wraps with heavy-duty, puncture-proof plastic material to prevent leakage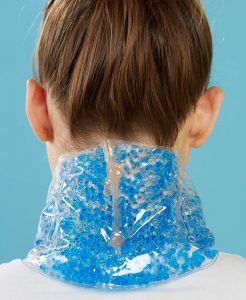 relatively cheap and widely available
comes in many shapes and sizes depending on the body part
easy to maintain and use
take short time (less than a minute depend on the wrap size) to heat in microwave, and relatively shorter time (one hour or so) to freeze
stay hot or cold relatively shorter time (in hours)
Clay Bead – small particles of mixture of natural ceramic clay with non-toxic oils
stays hot or cold for a longer period of time compared to gel beads
yields a higher therapeutic effect by staying in place and molding onto the injured body part
doesn't freeze solid; it remains pliant even when it's very cold
takes longer to freeze or heat (usually 4 hours in the freezer and 60- 90 seconds in the microwave)
heavier than instant cold packs or gel packs
may dry out when overheated or placed in direct heat or sunlight
Herbal Filling – many herb seeds can absorb heat and cold and release slowly. Besides, each herb has its natural benefits for healing and soothing pains. The common herbs include:
Buckwheat Seed
Saw Palmetto Berry

Cinnamon

Yellow Dock Root

Valerian Root 

White Willow

Chamomile

Yarrow

Peppermint

Spearmint

Lemongrass

Rosemary
Herbal neck wrap can have as many mix of herbal filling. This wrap is easy to heat in microwave (between 1 to 2 minutes) and freeze (freezer about 2 hours), and the hot and cold last longer than gel beads and slightly shorter than clay. They are natural and weigh less than clay, so the herbal hot and cold neck wraps are better choice.
Neo Sports Lab has the capability to manufacture all three types of hot and cold neck wraps, with multiple designs and features.