Elbow Compression Sleeve Crossfit
Neo Sports Lab makes two types of elbow compression sleeves for crossfit. One is the high performance elbow compression sleeve that is to provide strong support to elbow joints during crossfit workouts. The other is copper elbow compression sleeve, which provides moderate compression and support, best used before or after crossfit workouts for muscle relaxing and recovery.
Elbow sleeves provide compression, warmth, and a host of other benefits for your elbow joints. Similar to the knee sleeves, athletes in crossfit workouts typically wear elbow sleeves to prevent injuries or mitigate the pain of an existing issue.
How Elbow Compression Sleeves Help in Crossfit?
CrossFit is a program developed to offer a full-body workout that combines elements of cardio, weight lifting, gymnastics, core training and more to prepare the body for the unexpected.
According to the CrossFit website: "CrossFit is the principal strength and conditioning program for many police academies and tactical operations teams, military special operations units, champion martial artists, and hundreds of other elite and professional athletes worldwide."
Crossfit workout requires constantly high-intensity functional movements of arms ane elbows. Elbow sleeves are designed to guide your elbow joint through the full range of motion while providing support.
As you move through exercises like push-ups or pull-ups, the elbow sleeve counters the force of the muscles surrounding the elbow like the biceps and triceps. This distributes and decreases the load being passed through the joint which can prevent wear and tear over time.
The same idea applies for barbell movements like bench pressing, overhead presses, and bent over rows. While the bar is moving, the elbow sleeves provide support so that your joint doesn't have to take the whole load head on.
Depending on the thickness, elbow sleeves also work to keep your elbow joint warm so that fresh blood is pumped through the joint while you exercise. This helps keep your joints feeling loose as you workout.
Elbow Compression Sleeve Crossfit Pre- and Post-Workout
Pre-Workout warm-up and Post-Workout Recovery are equally important as workout itself. To get the best result and reduce injury, the dynamic warm-up and stretching before crossfit workout can help get your body ready for the big test. Wearing a moderate compression elbow sleeve such as NeoAlly copper elbow compression sleeve can keep your arm warm and help in flood flow.
After a crossfit workout program, you will have a lot muscle soreness. Rest and relax are surely essential, but active recovery is also important. Compression elbow sleeves do help to muscle recovery after exhausting exercise. These sleeves help to increase the blood flow through muscles, potentially improving athletic performance and speeding up recovery after workouts.
It may also help to wear compression elbow sleeves at night after a heavy day workout. In these instances, a low compression elbow sleeve with copper is the best. Do not wear your athletic compression sleeves to bed – the compression level is too high.
Features of Elbow Compression Sleeve Crossfit
High Performance Elbow Compression Sleeves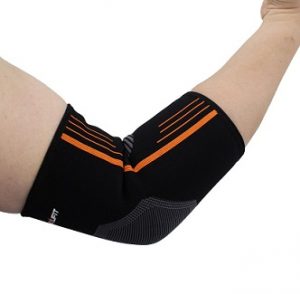 SUPERIOR SUPPORT: high quality material plus tighter seamless 3D Circular Weaving to make a high density, true and long lasting compression

BREATHABLE & COMFORTABLE: incorporate moisture wicking Polyester into the blend of Nylon and Spandex to keep your skin dry and comfortable

ENHANCED MOBILITY: apply a flexible weaving pattern at elbow joint to not hinder elbow movement, best elbow sleeves crossfit workouts

MUSCLE RECOVERY: warm compression support improves blood circulation, helps reduce inflammation, swelling, soreness and fatigue
Copper Recovery Elbow Compression Sleeves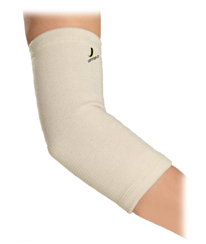 TRULY COPPER RICH – 25% copper fiber, 45% nylon, 25% spandex and 5% polyester

COMFORTABLE BREATHABLE – incorporate moisture wicking Polyester into the Nylon and Spandex blend to keep your skin dry and comfortable

MODERATE COMPRESSION & SUPPORT – improves blood circulation, reduces inflammation, swelling and soreness, promotes muscle recovery and helps in joint pain relief

WARM THIN LIGHTWEIGHT – thin, warm, durable and lightweight, fit under clothes, suitable for day and night wear