Dog Shoulder Brace for Arthritis and Dysplasia
Neo Sports Lab is making the best supportive shoulder braces for dogs with arthritis or dysplasia. Our dog shoulder braces have helped a lot of dogs in healing injuries at shoulder and elbow area.
What is Dog Shoulder Brace and How Does it Help Dogs?
Dogs are highly prone to get shoulder issues from arthritis or injuries by a sudden fall or by slipping. Dogs get shoulder fractures and injuries normally. Therefore, it is best to keep your dog pain-free by providing a shoulder brace. Hence, shoulder braces for dogs are best to correct so many problems like limping, collapsing, excessive weight, and laxity in the elbow joint.
Shoulder braces for dogs are specifically used to treat chronic illness and post OP recovery. The shoulder braces for dogs provides great stability and support to the injured part. In addition, the shoulder brace reduces the pain and provides freedom of movement.
Furthermore, shoulder braces for dogs are solely manufactured to limit the abduction and minor inflammation of the joints. Moreover, a shoulder brace is very helpful in the rehabilitation and recovery of an injury.
The shoulder braces for dogs can treat arthritis, osteoarthritis, and elbow dysplasia. Similarly, the shoulder brace can be used for the following purposes.
Sores
Bursitis
Arthritis
Osteoarthritis
Hygromas
Calluses of elbow
Post surgery recovery also
Lastly, elbow dysplasia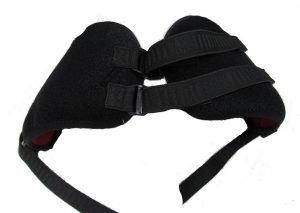 Features of Shoulder Braces for Dogs
Very useful in pre- and post surgery
Highly breathable fabric
Comfortable wearability
Easily washable
Adjustable straps
Also comes with two spare pads
The shoulder brace not only provides the compression but also escalate the temperature. Thus reducing the pain due to an injury.
Shoulder Braces for dogs keeps the medications safe that is applied after the surgery.
Dog Shoulder Brace by Neo Sports Lab
We work with Veterinarians and develop the perfect shoulder braces for dogs. Our design provides the much needed support right at the shoulder for the dog. The braces are safely secured to your dog's shoulder without moving or sliding during dog movement.
We provide a pair of shoulder braces for dogs. According to vets, when a dog injuries one side shoulder, it is highly likely the other shoulder will get injured due to the imbalance caused by the injured shoulder. So it is essential to protect both shoulders with our shoulder braces.