Knee Compression Sleeve Running
Neo Sports Lab is leading the industry in making the best knee compression sleeves for running.  We have developed several different types of knee sleeves, and each knee sleeve has its own features that are specifically designed for different types of runners.
Knee injuries are considered as one of the biggest problems among runners. Most runners are prone to getting knee problems after running for a long time. While knee braces are used to help reduce the severity of the injuries, they do not provide the flexibility for runners and protect athletes' knees while they are running. This is the reason why most runners choose to wear compression knee sleeves.
However, it is important to take note that knee sleeves are not only used by athletic people. Even people who have weak or vulnerable knees can benefit from the compression technology provided by knee sleeves. Moreover, people who underwent surgical operation on the knees can also use knee sleeves to provide support during recovery.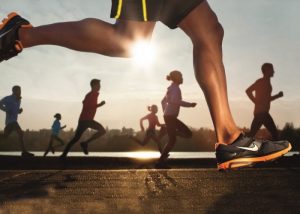 How Does Knee Compression Sleeve Help in Running?
A study published by the JAMA Internal Medicine indicated that runners are prone to getting different types of knee injuries. The reason for this is that the knees are one of the few parts of the body that is frequently moved while supporting the body weight, and thus it is subject to wear and tear.
Most runners suffer from patellofemoral pain due to the wear and tear of the patella – a small circular bone – that is responsible for the movement of the knees.  Runners also suffer from progressive tendonitis which is characterized by the grinding of the knee cap due to excessive movement.
When runners wear knee compression sleeves, the compression fabric restricts the patella from moving too much which causes the wear and tear.  It can also increase the proprioception which is defined as the capacity of the runner to feel the position of a joint in space. Simply put, knee sleeves do not only provide mechanical support mechanisms on the knees but also improves the ability of the nervous system to determine the placement of the joint particularly the patella. The Knee Sleeve also allows for a full range of motion and does not restrict movement. Reduce Inflammation and Knee Pain Relief: Compression in each knee sleeve improves circulation for faster recovery and provides muscle stabilization.
How to Choose a Knee Compression Sleeve for Running?
When you are searching for a knee sleeve that is made for running, you have to pay attention to the detail of each of the products. It is important for you to buy a knee sleeve that is made in the highest quality way – material, design, technology, comfort fit, durability, etc. When you are purchasing a knee sleeve for running, make sure that you find one that is made in a way that will help it to hold up well through much use and last well as you use it again and again.
Find Knee Compression Sleeves for Running That Offer You Good Compression and Maximum Mobility
Fabric weaved knee sleeves provide much better compression than neoprene sleeves. They are also more flexible and give much better mobility for runners. Most machine weaved knee sleeves are made from nylon and spandex, but the weaving technique can make huge difference in compression quality. A tightly weaved knee sleeve, such as NeoAlly High Compression Knee Sleeve, has high density and long-lasting compression. Design is another important factor. A good design knee sleeve, such as NeoAlly Sports Compression Knee Sleeve, which has 3D design of Consistent and Evenly Distributed (C.E.D) Compression technology,  creates a graduate and consistent compression around knee, not like most other knee sleeves of compression just on top and bottom of knee but not enough around knee. Make sure that the knee sleeve for running that you purchase is one that gives you all of the mobility that you want and that it helps you to move well. Do not purchase something if you feel that it will constrict your leg or slow you down in any way. Neo Sports Lab's knee sleeves have flexible design pattern on top of kneecap, which provide the maximum mobility for running.
Find Knee Compression Sleeves for Running with Good Support and High Breath-ability
When you are buying a knee sleeve for running, you need to find something that will support your knee well.  As stated above, machined weaved fabric knee sleeves provide better compression and support while still give you the mobility in running. You may also want to look for the knee sleeves that you can wear comfortably for long time without building up moisture from sweat. Neo Sports Lab, not only applies the 3D tight weaving technology to create better and longer compression, but also adds Polyester into the Nylon and Spandex blend. The moisture-wicking polyester can quickly evaporate sweat and make you skin feel dry and comfortable. This has made the knee sleeves breathable and comfortable to wear for running.
Find Knee Compression Sleeves for Running that You Can Wear Longer
Support, compression, and breath-ability are all the features you should look at when searching for knee sleeves for running. Sometimes, you may also want to look for other features such as the sleeves that you can wear under uniform or pants for running during cold weather. Neo Sports Lab has the special design sports knee sleeve that is thin but has consistent and evenly compression around knee – NeoAlly Thin Sports Knee Sleeve. This knee sleeve provides excellent compression around knee and can be worn under clothes. The Uptofit Copper Knee Compression Sleeve by Neo Sports Lab is another knee sleeve for running that you can wear before, during, and after run. The anti-microbial copper removes odor and keeps the sleeves refresh and give your knee support all day and night.
Find Knee Compression Sleeves for Running that Stay Put During Running
There are two major defects in knee sleeves for running: not enough compression around knee and sliding down or rolling up during running. Neo Sports Lab has addressed the "not enough compression" issue by applying the tight-weaving technique and C.E.D. compression technology. To resolve the issue of sliding down or rolling up, Neo Sports Lab has created the "LOCK-IN" design in NeoAlly Breathable Knee Sleeve and the 3D Curved design in NeoAlly Sports Knee Sleeve. Both designs have dramatically improved the stability of the knee sleeves and make the sleeves stay put during running or other activities.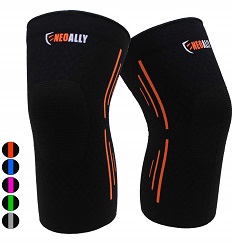 NeoAlly® Sports Knee Compression Sleeve Running
Thin Knee Sleeve Fits Under Pants
Consistent & Evenly Distributed (C.E.D.) Compression
Breathable Fabric (Moisture-Wicking Polyester)
Anti-Slip Lock Plus 3D Curved Design (Stay-Put)
5 Colors and 4 Sizes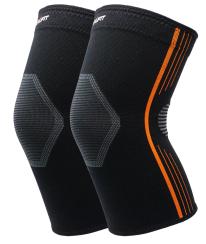 NeoAlly® Breathable Knee Compression Sleeve Running
Breathable Knee Sleeve (Moisture-Wicking Polyester) 
Tight-Weave Long Lasting Compression & Support
Flexible Weave Pattern Kneecap for Maximum Mobility
Lock-In Design & Anti-Slip Lock for Stay-Put
4 Colors & 4 Sizes