Horse Boots
Neo Sports Lab is the making all types of horse boots. Our products have helped many horse owners in protecting they horses from leg injury.
Horse boots are used to protect the horse's legs from injury during riding, lunging or turnout, as well as absorbing some of the shock on impact as a horse's hoof hits the ground. Horse boots can protect a horse's legs from interference that can lead to abrasions and splints.
Why Use Horse Boots?
The purpose of boots is to absorb the impact as the horse's hoof hits the ground. This minimizes the risk of injury to the tendon and ligament. Support boots, however, do not provide the same type of impact protection as splint boots or open-front boots; these particular boots are made with extra layers that cover the more vulnerable areas of the legs.
More and more veterinarians are prescribing boots for horses that have experienced a bowed tendon or ligament injury as well as for horses with arthritis. According to a recent study by the Equine Sports Medicine Laboratory at Oklahoma State University, horse boots absorb an average of 26% of energy and up to as much as 45% of energy from hoof impact, while also preventing hyperextension of the fetlock.
Horse boots are made of a variety of materials, including easy-care neoprene and plastic, sheepskin, leather and gel. Various types of horse boots may have hook and loop closures, buckles, or hook and stud closures. Regardless of the differences between styles, most protective horse boots come in pairs with a left and a right boot, with the closures of the boots designed to be on the outside of the horse's leg. If the boots are not clearly marked left and right, the closures should still end up on the outside of the leg with the ends facing toward the rear of the horse. If the closures were located on the inside of the leg, they could interfere with each other, come undone or cause the horse to stumble.
Types of Horse Boots
Based on the usage of the boots for protection, there are five main types of horse boots: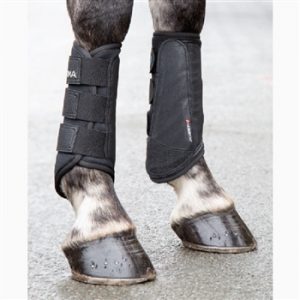 Cross Country Jumping Boots: Designed to protect your horse through the rigors of cross country courses, these boots are usually made of a fairly lightweight, strong material. They'll have durable strike pads to provide extra protection to the interior side of a horse's leg. They usually have heavy duty hook and loop closures, are easy to clean, and do not absorb water, which would add weight.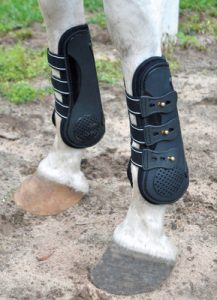 Open Front Jumping Boots: These boots typically have elastic straps and traditional hook and stud closures, though some styles offer hook and loop closures. The open front design encourages a horse to be more careful going over jumps as the horse will feel a fence pole if he hits it. The boots provide strike protection from the back hooves for the tendons in the back of a horse's leg. You can find horse boots made of a variety of materials.Open front boots are usually placed on a horse's front limbs, while ankle boots are placed on the hind limbs. Riders generally choose a set of matching open front and ankle boots in conservative colors. These boots are permitted in the jumper ring but are not allowed to be worn in the hunter ring.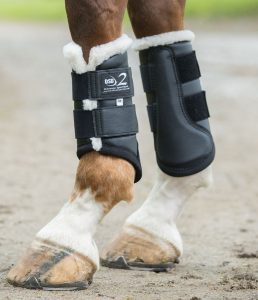 Dressage/Flat Work Boots: Boots designed for dressage protect a horse's legs from interference and can be a time-saving alternative to polo wraps. Dressage boots are usually lined with fleece or neoprene and are made of materials that are easily cleaned with water. Because of the tradition of elegance in dressage, popular colors for dressage boots are white and black, and some riders choose brown boots to coordinate with their chestnut mounts. Boots (and polo wraps) are not permitted to be worn in a dressage test, but they may be worn in the warm-up area.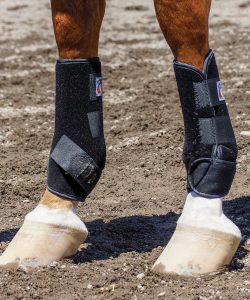 Support Boots: This type of boot is engineered to support a horse's tendons and ligaments. The boot surrounds the leg and has a strap that cradles the horse's fetlock joint to prevent hyperextension. Horses with a history of or predisposition to support-related injuries (such as suspensory injuries) can benefit from this type of boot. Support boots are available in a wide variety of colors.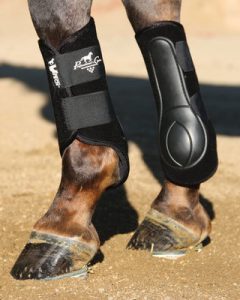 All Purpose Splint Boots: Splint boots are a necessary accessory for horses that interfere. All purpose boots have a reinforced inner strike area and are usually some of the most affordable types of horse boots. Support boots are available in a wide variety of colors.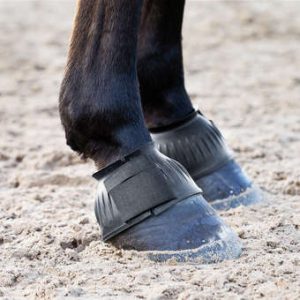 Bell Boots: Bell boots are usually worn to prevent overreaching (when thehorse "grabs" his front heels with the toes of his back feet, resulting in injury), or if the horse is wearing shoe studs, to protect him from accidentally injuring himself with the stud of the opposing hoof