Is your pup showing symptoms of discomfort in their lower body or a reduction in mobility? They could be suffering from early signs of canine hip dysplasia. Fortunately, your dog doesn't have to suffer. Neo Sports Lab has developed a perfect brace to treat your dog hip dysplasia.
Hip brace for dogs provides support, warm and slight compression to the joints and muscles in the hips and lower back. It is appropriate for active dogs of all ages who suffer from arthritis, mild to moderate hip dysplasia, decreased endurance during activity,hip pain, low back pain or weakness and back leg limping. It is suitable for dogs recovering from surgery or injury and older dogs who have difficulty getting around. Once the dog got used to the hip brace, it can be used all day long and taken off during the night.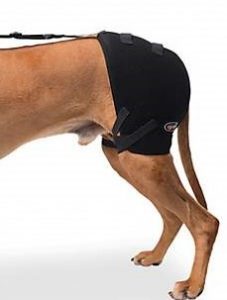 What is Dog Hip Dysplasia? How a Dog Hip Dysplasia Brace helps?
Dog hip dysplasia is a common canine hip problem. It is a disease of the hip in which the ball and socket joint is malformed. This malformation means that the ball portion and its socket don't properly meet one another, resulting in a joint that rubs and grinds instead of sliding smoothly. Hip dysplasia is one of the most common skeletal diseases seen in dogs and in its more severe form, can eventually cause crippling lameness and painful arthritis of the joints.
Hip dysplasia often begins while a dog is still young and physically immature. Early onset usually develops after four months of age. There are also cases of later onset, where hip dysplasia develops due to osteoarthritis, a form of joint inflammation (arthritis) that is characterized by chronic deterioration, or degeneration of the joint cartilage.
Where surgery isn't required, or isn't possible, there are solutions to help ease your dog's suffering. The Dog Hip Dysplasia Brace is designed for dogs who suffer from mild to moderate hip dysplasia, but also arthritis, decreased endurance during activity, hip pain, low back pain or weakness and back leg limping. It is also appropriate for puppies and young dogs who suffer from low back pain and early hip dysplasia symptoms, and to support the low back and hip area for dogs recovering from surgery or injury. The brace can be useful for older dogs who have difficulty getting around easily. The support and stability provided by the brace helps decrease pain and inflammation while being active.
Dog Hip Brace for Dysplasia by Neo Sports Lab
We work with Veterinarians and develop the perfect braces for dog hip dysplasia. Our design provides the support right at the hip area for the dog and the braces fit perfectly to your dog. Coming with the braces is a secure system to hook the brace to dog harness, and the hip braces are safely secured to your dog's hip without moving or sliding during dog movement.
We provide a pair of hip braces for both dog's hips. According to vets, when a dog injuries one hip, it is highly likely the other hip will get injured due to the imbalance caused by the injured leg. So it is essential to protect both hips with our hip dyplasia braces.